Q&A >>

つかいかた

How to use

プライバシー保護のため、公園駐車場の方向はピンボケ画像になります。

公園付近には街灯がなく、夜間は何も見えないので動画配信を止めています。ただしカメラコントロールとスナップ写真のボタンは有効です。

夜間にもお楽しみいただけるよう、昼間の静止画やタイムラプス動画のページを作成しました。こちらからアクセスできます。

For privacy purposes, you may find that footage surrounding the carpark area is blurred.

Because there are no lamp posts in and around the park, and little to no visibility at night, we will stop live-streaming once the sun sets. However, features such as control the camera, and snap a photo will still be available to use.

To make sure that you can enjoy the use of our website in the evenings, we have added still photos, and time-lapse videos of footage taken earlier during the day.You can watch them HERE.

Q&A >> How it works

公園に置いた高性能カメラをインターネットで大学までつなぎ、大学のサーバーからカメラ制御や動画配信をしています。村のネットワークに負担をかけないようにサーバーが映像を代表受信して、それを視聴者に再配信するしくみです。

スマホでもPCでも違和感なく閲覧できるよう、レスポンシブデザインという考え方でプログラムを作りました。

The high-re camera located in the park is connected to the university server via the Internet, which we then use to remotely control the camera, and live-stream footage.

To avoid placing any strain on the village's network, our streaming system works by having the university server first receive the footage, before live-streaming it to viewers.

We have programmed the system in manner of responsive design, so that you'll have the same experience whether you are using a PC or any other device.

Q&A >>

しくみ の うんちく

Trivia

カメラ付近にはインターネットがなく、公園の管理棟まで「長距離WiFiブリッジ装置」を使って映像を送っています。ライブ中継装置は屋外にあり、冬はマイナス20度、夏はプラス55度まで耐えるプロ仕様の機材です。撮影対象が植物なので、動画のコマ数よりも精細度を重視して限られた通信速度を有効に使っています。

蓄積動画の配信は容易ですが、ライブストリーミングは簡単にはできません。また訪問者ごとに通信速度がバラバラなので、配信用の専用プログラムを研究室で開発しました。このサイトでは訪問者のスマホやPCに特別なソフトを要しない方法でライブ中継をお楽しみいただいています。

大規模なライブ中継サイトを作るには、たくさんのノウハウが必要です。このような技術に興味を持った人はぜひ情報科学部 ネットワークデザイン学科へ。

Because there is no way to access the Internet in the surrounding area of the camera, a "Long-hawl Wi-Fi bridge" is used to carry footage to the admin office of the park. Gears for live-streaming, which is located outdoors, consist of professional-grade hardwares that can withstand temp of up to 55 degree Celsius (131 degree Fahrenheit) in the summer, and -20 degree Celsius (-4 degree Fahrenheight) during the winter months.

Given that the subject of our film are plants, we are making efficient use of our limited network bandwidth, by placing a greater emphasis on the resolution of the footage, than the number of its frames per second.

Due to the difficulties associated with live-streaming in contrast to streaming of pre-recorded footage, and the fact that visitors to the website access it at different network speeds, we have developed own streaming software at our lab. As a result, you can enjoy accessing live footage without ever having to install any software on your PC or device.

Developing and maintaining a live-streaming website on a large scale such as this, requires the constant input, and knowledge of many different individuals. For those who are interested, or have developed an interest in this area of technology, please feel free to come to our department, Dept. of Network Design, in the Faculty of Information Science & Technology.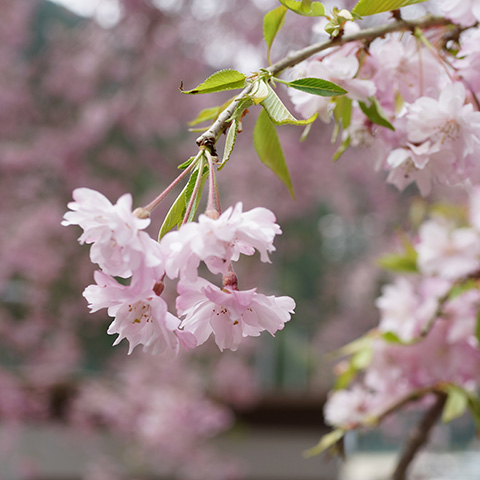 「桜ライブキャスト」は、あきつの小野公園(奈良県川上村)の桜をライブ映像でお届けしています。
大阪工大と奈良県川上村は学生教育と地域振興の取り組みを共同で行っています。その一環として 情報科学部 情報ネットワーク学科(現ネットワークデザイン学科)が「あきつの小野公園」の桜ライブ中継を2015年から始めました。2017年は現地の気象情報やタイムラプス動画も見えるようにバージョンアップしました。2019年には川上村の他の施設にもカメラを増設し、コンテンツを更にパワーアップします。
桜ライブキャストを皮切りとして、情報科学部では川上村の皆様からご指導をいただきながら同村のICT化を題材とする多様な活動を進めています。第二弾、第三弾にご期待ください。
"Sakura Livecast" provides live streaming video of cherry blossoms' forest at Akitsuno-Ono park, Kawami vill. in Nara.
The Osaka Institute of Technology (OIT) and Kawakami Village in Nara are jointly exploring new ways to improve student education and to revitalise the village.
As part of these efforts, Dept. of Information Networks, currently known as Dept. of Network Design at OIT decided to set up the live streaming of cherry blossoms at Akitsuno-Ono Park. Our most recent update in 2017 saw the inclusion of several new features including current weather conditions, and time-lapse videos of cherry blossoms, and we are constantly looking for new ways in which to provide further interesting content. In 2019 we are to provide another camera views from the different locations in Kawakami Vill, too.
Starting with the live streaming of cherry blossoms, the Department taking on board the input provided by Kawakami village residents, are working on several different projects which all seek to further improve the village's ICT (Information Communications Technology) capacities. Please look forward to the release of our new products in the near future.