あきつの小野公園は世界遺産「吉野大嶺」のはずれにあって、毎年みごとな桜が咲き誇る静かな公園です。万葉集にも登場して、松尾芭蕉も訪れた迫力ある「蜻蛉(せいれい)の滝」が公園内にあります。ここから青根ヶ峰を経由して金峯神社や吉野奥千本方面へハイキングに出かけることもできます。
Akitsuno-Ono Park is found at the edge of the World Heritage site "Yoshino Ohmine". In the park visitors can enjoy its tranquility and in spring gorgeous cherry blossoms. There is an impressive waterfall, "Seirei-no-Taki". The name appears in Man'you-shu. It is also known that Matsuo Basho stopped here. Visitors may wish to go on hiking from the park through Aogamine Hill to Kinpu Shrine and Yoshino Okusenbon.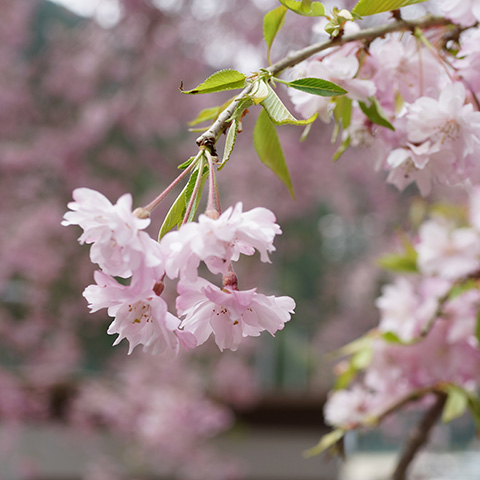 「桜ライブキャスト」は、あきつの小野公園(奈良県川上村)の桜をライブ映像でお届けしています。
大阪工大と奈良県川上村は学生教育と地域振興の取り組みを共同で行っています。その一環として、情報科学部では「あきつの小野公園」の桜ライブ中継を2015年から始めました。2016年には気象情報の提供を始めて、また村内の複数公共施設でフリーWiFi接続サービスを開始しました。2018年には芸術家村 匠の聚にもカメラを取り付け、カフェから眺める絶景を夜明けから日没までタイムラプス動画で公開しています。
桜ライブキャストを皮切りとして、情報科学部では川上村の皆様からご指導をいただきながら村のICT化を題材に多様な活動を進めています。第二弾、第三弾にご期待ください。
"Sakura Livecast" provides live streaming video of cherry blossoms' forest at Akitsuno-Ono park, Kawami vill. in Nara.
The Osaka Institute of Technology (OIT) and Kawakami Village in Nara are jointly exploring new ways to improve student education and to revitalise the village.
As part of these efforts, Dept. of Information Networks, currently known as Dept. of Network Design at OIT decided to set up the live streaming of cherry blossoms at Akitsuno-Ono Park. Our most recent update in 2017 saw the inclusion of several new features including current weather conditions, and time-lapse videos of cherry blossoms, and we are constantly looking for new ways in which to provide further interesting content. In 2019 we are to provide another camera views from the different locations in Kawakami Vill, too.
Starting with the live streaming of cherry blossoms, the Department taking on board the input provided by Kawakami village residents, are working on several different projects which all seek to further improve the village's ICT (Information Communications Technology) capacities. Please look forward to the release of our new products in the near future.